KAAN in the Air Capital: Advising Students to New Heights
Kansas Academic Advising Network 2023 Annual Conference
Friday, September 22, 2023
Wichita State University
We invite you to join the Kansas Academic Advising Network in Wichita, Kansas, for our annual conference. This year's theme, "KAAN in the Air Capital: Advising Students to New Heights," was chosen to reflect Wichita's moniker as the "Air Capital of the World" but also to champion the work academic advisors do to help students achieve academic and personal success.
The Kansas Academic Advising Network is proud to promote high quality professional development opportunities for academic advising professionals from across the state of Kansas and beyond. Your conference registration also includes one-year membership in our state-wide academic advising network.
Whether it's submitting a proposal for review, accepting a nomination for the steering committee, or being an attendee, we hope to see you in the Air Capital this September!
Important dates:
June 23: Call for proposals opens.
July 7: Conference registration opens.
August 11: Call for proposals closes at 11:59 p.m. CDT.
August 25: Early-bird (discounted) registration deadline, 11:59 p.m.
September 1: Awards nomination deadline

– extended to September 8.

September 15: Regular registration closes at 11:59 p.m.
September 22: Conference day!
---
KAAN 2023 Conference Program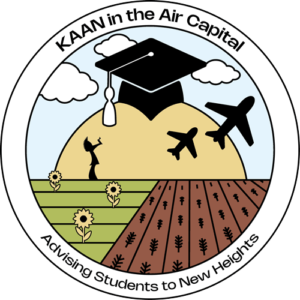 Thursday, September 21, 2023
6 p.m.: Preconference social social and networking event at Social Tap.
4510 E. 19th St. N Suite 101, Wichita, Kansas
Please join us to make some connections before our conference event! Appetizers will be provided. Social Tap offers a variety of tasty dishes including pizza, burgers and sandwiches, as well as 52 taps of beers from around the world and refreshing cocktails … all within walking distance of the conference hotel.
Friday, September 22, 2023
Wichita State University
Rhatigan Student Center
1845 Fairmount Street, Wichita, Kansas
7:30 a.m. Breakfast and check-in.
8:00 a.m. Welcome.
8:30 a.m. Breakout session 1.
9:40 a.m. Breakout session 2.
10:40 a.m. Break.
10:55 a.m. Breakout session 3.
Noon: Lunch with business meeting and keynote presentation.
1:30 p.m. Breakout session 4.
2:45 p.m. Conference awards presentation and door prizes.
---
Keynote Speaker
Jessica Provines, Ph.D., serves as assistant vice president for wellness and chief psychologist at Wichita State University.
Motivated by her personal experience with mental health challenges and suicide loss, she spent many years as a DBT-trained, university mental health provider before stepping into broader student affairs administration.
As a community/clinical psychologist, Provines established prevention services on campus and helped found the Suspenders4Hope Mental Wellness and Suicide Prevention program, a strategic, research-based approach to help organizations of all sizes end mental health stigma, improve community support and ultimately reduce deaths of despair.
She serves on the Sedgwick County Suicide Prevention Coalition, the Sedgwick County Health Department Community Health Improvement Plan Mental Health Workgroup, was appointed by County Commissioner Sarah Lopez to serve on the Mental Health Advisory Board and was elected by her peers to serve on the Kansas Suicide Prevention Coalition Executive Committee.
Provines is a popular public speaker on the topic of mental health and has given hundreds of informational yet inspiring presentations to schools, nonprofits and workplaces delivering the message that we are all connected as human beings and responsible for taking care of each other.
She is a native of Wichita, Kansas, and three-time WSU alumna who has dedicated her 25-year tenure at the university to serving the mental health needs of students and leading the university's efforts to bring hope to people in times of despair in her local community, Kansas and beyond.
---
Awards
The KAAN awards program is designed to honor individuals and institutions that have made contributions to academic advising within our organization and within their respective institutions. Several award categories are available, including "Best of KAAN" for the most outstanding presentation at this year's conference. We highly encourage you to nominate a colleague. See awards details and how to submit your nomination.
---
Registration & Payments
Registration for this year's event is closed.
Each individual attending the conference needs to complete the online registration. Please read and ensure you understand and accept our conference registration policy before you submit your registration for this year's event.
An option is also available for submitting payment via check by mail or for a business office to pay for registration(s) after you have registered individually for our event. Please check your email confirmation message for details. If your office is paying for your registration after you submit registration, please provide them with this link to submit payment online: https://form.jotform.com/61648244425962.
Early-bird registration: (by August 25, 2023) $80.00 (includes one-year KAAN membership).
Regular registration: $95.00 (includes one-year KAAN membership).
If the attendee's office or department is submitting payment on their behalf, the attendee should provide their email confirmation to their office. Registration is not complete until the attendee receives confirmation that payment has been received.
KAAN Treasurer
contactus@kansasadvising.org
---
Steering Committee Positions
At this year's annual conference the following positions are up for election:
Vice Chair (3-year commitment)
Secretary (2-year commitment)
Membership (2-year commitment) 
See also: Duties of steering committee positions.
Submit your nomination for the steering committee with this year's conference registration. Or, submit a nomination without registering for this year's conference.
---
Hotel Information
KAAN2023 conference attendees: get your discounted lodging rate at Hyatt Place.
Hyatt Place at Wichita State University
4703 E. 19th Street North, Wichita, KS 67208
Visitor Parking at WSU
During the parking enforcement period (7 a.m.-5 p.m. on weekdays when classes are in session), visitors may park without a permit for three calendar days during each semester in the lots indicated in blue on the map below. Visitor-accessible parking lots are marked with prominent "V" signage. .
Parking garage by the Rhatigan Student Center has an hourly fee for parking on levels 2, 3 and 4 or on the level 2 and 3 ramps. The hourly parking rate is $1.50 per hour and payable via debit/credit card only, seven days a week. Ground level (and parking spots with red signage) is reserved.
Up-to-date parking information is available at wichita.edu/visitorparking.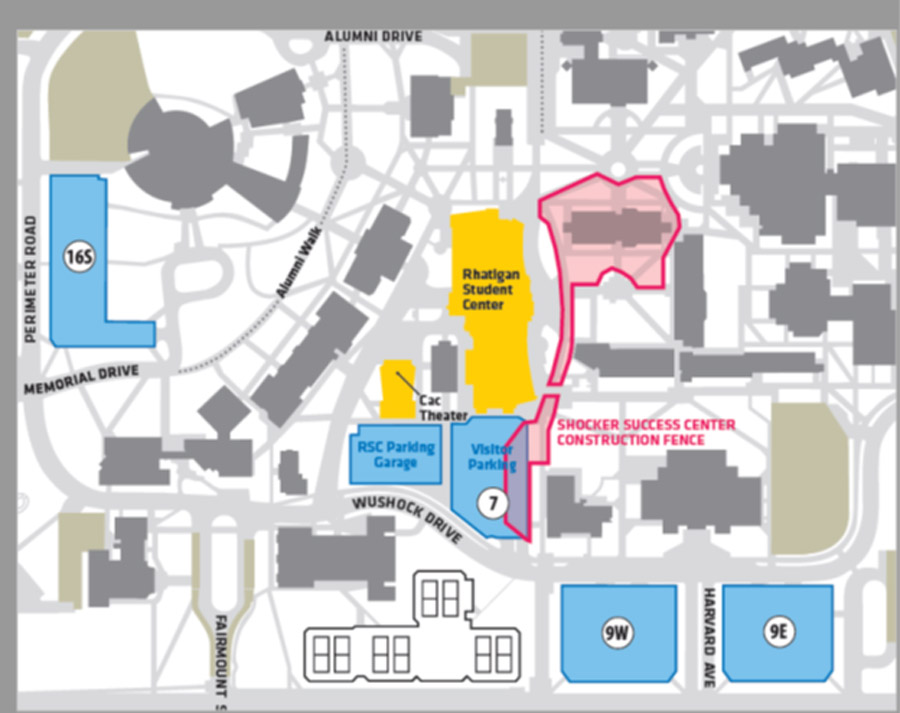 ---
Professional Development
KAAN professional development awards provide current members the opportunity to seek funding to grow and expand as professionals. Review the guidelines regarding submitting an application for, and receiving, a professional development award.